Smith's Tropical Luau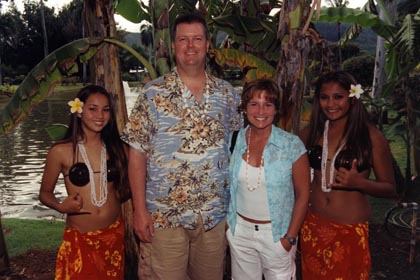 Smith's Tropical Luau is hosted at their tropical gardens on the east shore of the island on the Wailua River. They have a large assortment of tropical plants from many islands throughout the Pacific, and focus a good deal of attention on the shared cultures of Hawaii, China, Japan, Samoa, Polynesia, and many others. They also put on one hell of a luau! They roast a pig in the ground and dig it out in the Imu ceremony, then they bring that and enough food to feed a large island (they are feeding about 500 people at this event) into the main dining area and serve it up buffet style. Oh yeah, I forgot to mention the open bar. I've never seen so many free Mai Tais in my life! After dinner they put on a very theatrical dance show that celebrates the cultures of Hawaii and the Hawaiian brethren around the Pacific.

The place is crawling with Peacocks, which is very cool

It was mating season so the males were in display most of the time

Oh, and they have chickens, too.

Another one showing off for the ladies

Gorgeous color

Dwarf Poinciana

Plumeria
An Albino peacock, very rare

Royal Palms

The lagoon in the gardens

Cooks Pines, Capt. Cook planted them all over the island so ships would have a source for masts.

More Plumeria

And more chickens

Golden Bamboo, this can grow 6 inches a day!

Coconut tree

Apparently Kari's not his type

The Imu Ceremony, blowing conch shells to bless the luau

Digging out the pig

That looks hot

There's Dinner!

Us at dinner, only 2 Mai Tais so far!

The Beginning of the show

Fire's a good attention getter

He was lighting torches while swinging a fireball and running

Dancers

Dancers

Hula Dancers

Performing a traditional hula

Chinese Dragon dance
Japanese Dance

Japanese Dance

More dancers

They were very good with these

Now we're having fun, Fire!

The fire dancers were really impressive

And this guy just rocked

Don't Smoke

The original cure for athelete's foot